Want to close deals like a pro? Be a strategist and create a deeper bond with your clients.


Handwritten notes command a staggering 90% open and read rate and 5 times the response of normal direct mail.


Shorten sales cycle with a thoughtful handwritten note just for them.Make a more trusted relationship, one they would love to be part of.


Whether you're sending to one or thousands, we make it easy. Book a demo today and watch new clients roll in
Use our handwritten-notes platform to break through to prospects and customers with a 90% read rate and 5 times the response of normal direct mail.
Use our personalized marketing platform to break through to prospects and customers. Our customers drive 6x higher response rates and build deeper, stronger and more trusted relationships.
Our platform combines robotic handwritten notes with precision-targeted lead generation and digital-marketing follow up. Whether you're a real-estate agent or Shopify site, SaaS company or car dealer, our platform helps you shorten sales cycles, close more deals and form a meaningful bond with prospects and customers.
After all, when all you get is spam email and junk direct mail, it's nice to receive a thoughtful handwritten note, created just for you.
Handwritten mail wields the rare ability to break through, capture attention, drive action and accelerate deals.
Whether you're a real estate agent (broker or realtor), insurance, mortgage or title-insurance broker, wealth manager (private banker), roofer, pest control company, winery, solar panel installer, online retailer, shopify eCommerce site, high-end luxury fashion brand, auto dealer, fundraising (non-profit), education or software (SaaS company), send a handwritten letter, thank you note or thank you card.
Handwritten direct mail has long been an effective way to build relationships with buyers and customers, but the channel has been inefficient and difficult to scale.
Until now, that is…
Meet Our Handwriting Robots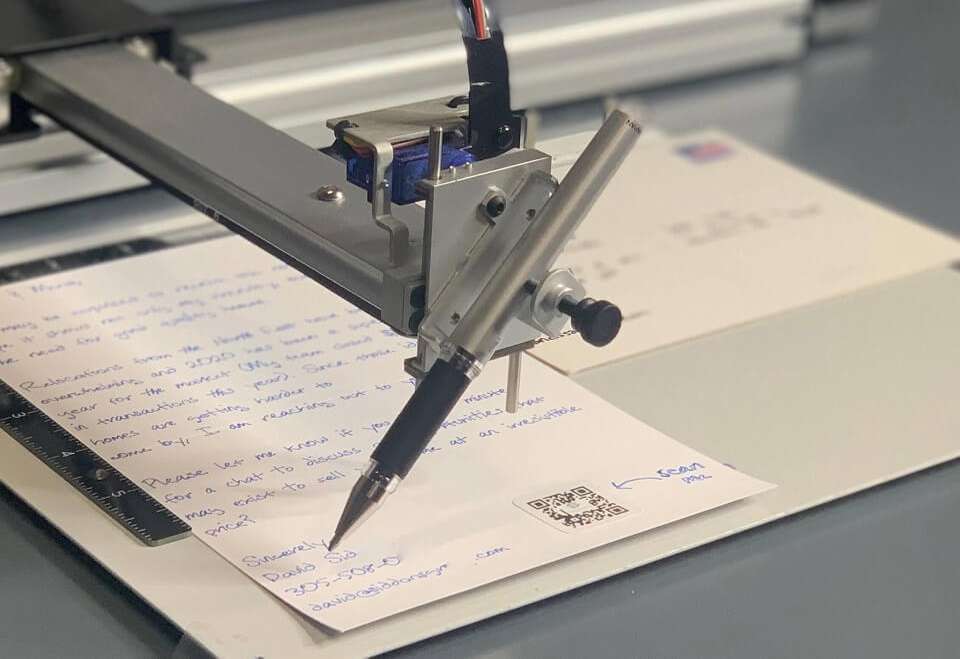 Our machines hold real pens and write with precise pressure, slant and flow.
They mimic the nuances of the human hand, rendering your personalized message in a font style you choose that fits your brand and personality.
We write your message on a thick-stock note card, which we print on demand with your logo and artwork. Or simply upload or drag-and-drop images or photos of your choice.
Our robots even add slight variations to each character. They also leave subtle blemishes and the telltale imprint of a pen pressed down on paper.
We print, write, stamp, seal and send via first-class mail all in one business day.
Make Sales Success Inevitable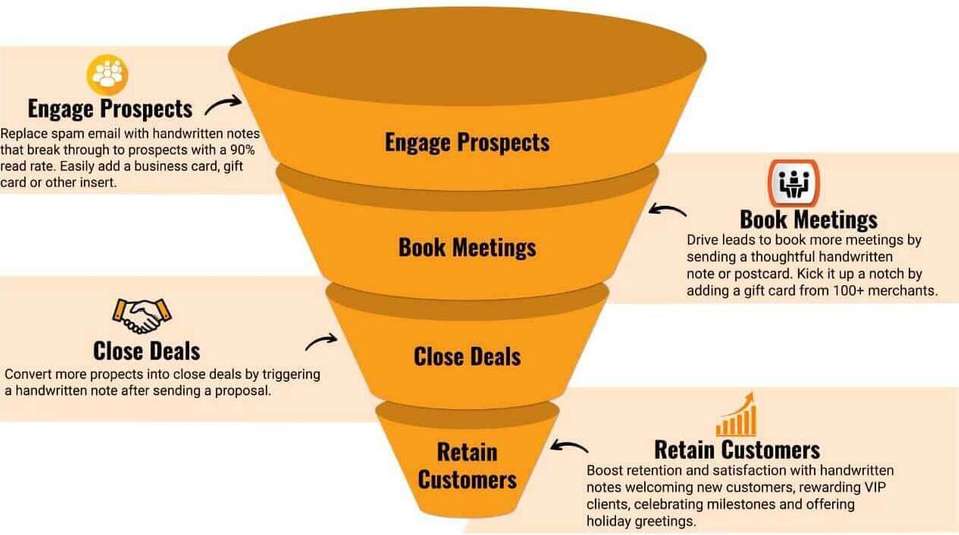 Built to Help You Grow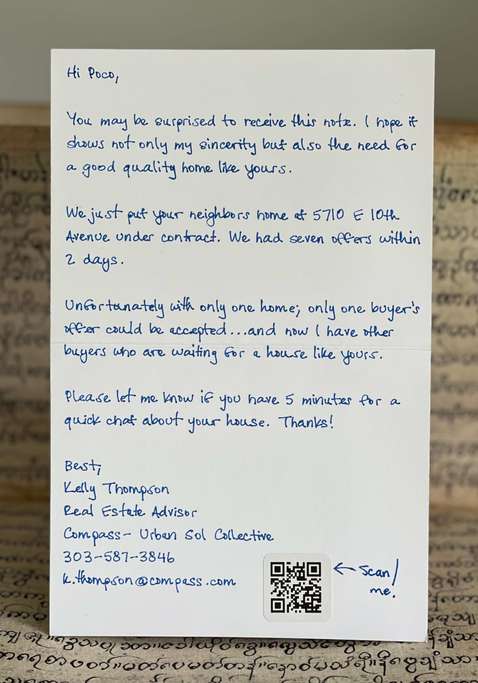 There are many ways to use us to grow your business:
Break through to cold prospects.
Follow up after meetings.
Motivate prospects to sign contracts.
Welcome new customers.
Reward high-value customers.
Reactivate dormant customers.
Celebrate milestones.
Give thanks for referrals.
Warm up leads before trade shows.
Follow up after trade shows.
Say thanks for a donation.
Appreciate channel & other partners.
Commend, console & thank employees.
Ease the aftermath of a tough meeting.
Drive upsells and cross-sells.
Share promo codes.
Recover abandoned carts.
Invite to events and webinars.
Trigger drip sequences from sales reps.
Include a gift card with any note.
Send holiday greetings.
As Easy as Sending a Text
We've made handwritten marketing easy.

In the time it takes to send a text, use our web application to trigger a note on your custom stationary.

Show an extra level of thoughtfulness by including a gift card from Starbucks, Amazon and other merchants. Also, get unlimited warehouse storage for business cards and other inserts, which we can add to any of your notes.

If you're sending to multiple recipients, email or upload a spreadsheet. Or import your audience with our seamless integrations.

You can use our web application or work with your Customer Success Rep to configure trigger-based campaigns in just minutes.

Easily customize your content based on who you're talking to. Send a totally personalized note or add custom variables such as name, company and product. Just like email, no one wants to receive a note that isn't relevant to them.

Create your own message or easily select from hundreds of winning letter templates for any situation.

Whether you're sending to one or thousands, we make it easy.
Track Performance
With our system, you can track ROI by measuring lift in lifetime value and conversions from audience segments that received notes versus your control group.

Or we can insert unique promo codes and tracking URLs. Quickly tweak your notes and postcards for different audiences.

Then after you have it perfect and it works, put it on auto-pilot.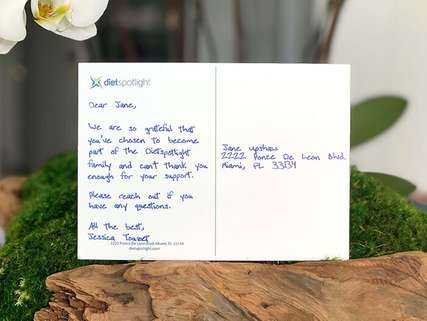 Grow Faster and Leave a Long-Lasting Impression
We help you grow your business and leave a long-lasting impression in a way that's surprisingly easy and cost-effective.

Use our platform to break through to prospects, drive conversions, increase retention and deliver a rare, one-on-one experience.

Most of all, add a personal touch to your sales process to close the distance between you and the people who matter.
CLICK HERE TO LEARN MORE ABOUT THIS SERVICE