This tactic does one thing really well:

It helps you find new affiliate offers to promote.

If you have a page that gets traffic but doesn't have good offers to promote or if one of your good offers got pulled from the network, this is the one for you.

But before I give you the exact trick, let me explain to you why it works.

You see, many sites use redirects to send traffic to their affiliate offers.

These are managed by plugins like Prettylink or Thirsty Affiliates.

Usually, these redirects look like "site.com/recommends/offer" or "site.com/go/offer".

The reason they use these is both to track where the clicks come from also to be able to quickly change a lot of affiliate links at once.

It's convenient.

And you usually use
your robots.txt to block Google from indexing these URLs / links.


The thing is… many sites forget to block the URL's with their robots.txt…

And you know what that means

I can find them all using Google .

Just type site:*/recommends/*


Then all you need to do is add relevant keywords to the query.


And voila! Google is serving you a bunch of links to products with affiliate programs you could use for yourself.

This tactic works with the following footprints:

/recommends/
/go/
/link/
/review/
/product/
/suggests/

Additionally, if you found a site that seems to have a lot of offers indexed, you can simply put their domain instead of the first star so for example

site:dailycbdreviews.com/recommends/*


And you will immediately find all the offers they promote through redirects.

You can then sign up for these offers yourself and start promoting them.

So next time you are looking for offers to promote for your site, try this tactic out
.

Gael Breton
Co-Founder of Authority Hacker
8 Super Easy Ways to Find Affiliates that will Sell Your Product in 2022
Are you wondering how to find affiliates for your product?
Well, we have exactly what you are looking for.
Let's start with a little background info first.
The eCommerce industry already recognizes that affiliate marketing is one of the most efficient ways to increase your sales as it is turning into one of the most trusted online marketing methods.
The chance to put your product or service in front of people that are highly interested, yet hard to reach in normal circumstances, is pretty great and can help you increase your business profitability within a short period.
Due to small investment and the performance-based model of marketing, affiliate marketing is expected to take over email marketing by 2022. Currently, it's almost on the same level as email marketing when it comes to the best online marketing method to generate revenues.
Affiliate programs can be a good way for marketing specialists and retailers of any size to reach a wider audience while earning new customers and increasing revenue. However, it can be difficult for new businesses to decide where to start.
But before we get into that, let's explore a bit more about the Affiliate Model of marketing.
What Is Affiliate Marketing and How Does It Help Businesses?.
In essence, affiliate marketing lets a person promote your product or service and earn commission on every sales or conversion.
A business can either build their affiliate system or join an established affiliate program that acts as a marketplace for affiliates and businesses.
Affiliate programs give you access to a network of partners who promote your products among their audiences through a trackable link that lets the consumers shop directly at your online store.
In return, these members get a fixed commission for each sale or flexible commission based on the number or amount of sales from you.
Affiliates can promote that trackable link on their website or blog, their social network profiles or even emails. When customers click on that link and finally make a purchase in your store, you pay the commission based on the total amount of that order.
Most affiliate programs' commission structure for affiliates is based on each order that comes from their unique affiliate link and is known as affiliate commission.
However, some affiliate programs also choose to pay commission based on an action like email collection or by clicks or by a combination of the three. Usually, affiliate programs offer multiple ways for businesses to set the affiliate's commission structure, which is pretty customizable.
Deciding which commission structure is the best option for your business depends on the main objective of your affiliate marketing.
If you are looking to increase brand awareness and recognition, the best option could be pay per action where action can be email collection or a phone number, etc. If you are looking to increase revenues, the better option would be the typical pay per sale.
The two main ways in which retailers implement an affiliate marketing program are: Build your own program and go directly to affiliates, or join an external affiliate network to access those affiliates and let them decide about your offer.
Both options have their pros and cons but for a small or medium-sized business, it's always a good idea to join an already established affiliate network.
So now I believe that you have a basic idea of affiliate marketing, how it works and how it can help your online business.
Assuming you have either joined an affiliate network or have your own affiliate setup in place, let's see how you can find and get affiliates to start working for you.Featured Platforms
Refersion is a relatively new and fast-rising affiliate management solution with a portfolio of over half a million clients tuc…
Our Score
4.9
Tapfiliate is an Affiliate tracking software for E-Commerce and SaaS that integrates seamlessly with your website and lets you …
Our Score
4.7
8 Methods to Recruit The Right Affiliates.
1. Work with an Affiliate Recruitment Agency.
One good option for finding affiliates would be working with an Affiliate Recruitment Agency. These agencies differ from typical Affiliate Management Agencies in that they focus entirely on finding and recruiting affiliates for brands.
Working with an Affiliate Recruitment Agency is best suited for brands that need to expand their bandwidth for ongoing discovery and outreach of partners. Instead of outsourcing your entire affiliate program, these agencies allow brands to simply outsource the heavy-lifting of affiliate recruitment.
While the onus is on you to manage the strategic aspects of your channel, recruitment agencies will still offer guidance on making your offer and commission structure attractive to prospective partners. They will typically also help negotiate better deals with affiliates through existing relationships they've established.
A new affiliate recruitment startup called Grovia specializes in helping brands automate their affiliate recruitment. They recently co-authored the Ultimate Guide to Recruiting Affiliates ebook with Refersion. The ebook explains how to find, recruit, and onboard affiliates in an automated fashion.
2. Use Fiverr Marketplace.
Fiverr Marketplace has its pros and cons however, you can find great gigs if you look hard enough.
One of the best and easiest ways to find an affiliate to promote your product is by choosing 10 sellers on Fiverr that offer a gig to promote your product and test them all with unique affiliate links to be able to track their performance.
Out of 10, you should find at least 1 or 2 that are performing well and are profitable. Then reach out to them and start to develop a long term partnership with them.
Rinse and repeat.
3. Affiliate Networks and Directories.
This is the pretty obvious one so putting it in at the end. You can simply join popular and reputable affiliate networks like ClickBank, ShareASale or CommissionJunction. Some of them charge you to list your product whereas others simply take a commission on each sale.
If you are a retailer, you can use Refersion, a free marketplace, to publish and promote your affiliate program. Their marketplace attracts many great affiliates that are looking for new products to promote.
Marketers often use these networks to find products or services to promote. Also when you join a network, there is a good chance that affiliates come to you automatically instead of you reaching out to them.
The critical thing on these networks is to make sure that you offer a competitive commission structure and lucrative incentives.
Also, you might need to provide marketing material such as banner or graphics for your affiliates.
The biggest benefit of joining these networks is they can help you steer your affiliate marketing in the right direction due to their years of experience and expertise. You can directly talk to their support representative or go to their knowledge hub.
These networks offer pretty comprehensive guides for new businesses on how to use and exploit the full potential of affiliate marketing for their brand.
Aside from these networks, you can also find affiliate programs directories to promote your program (many of these are free, such as this one).
4. Influencers.
Influencers are the talk of the town lately and it continues to echo in every marketing conference or blog. They are people with strong followership based on their expertise or popularity in a specific niche. They can be actors, artists or even a stay at home dad.
By using the influencer reach, selecting a suitable product based on the platform and, offering high-quality marketing material, you can increase your sales significantly.
There are several platforms where you can find influencers who can help you get good results for your business.
Platforms such as Twitter, Instagram, Facebook, YouTube, Snapchat, etc. are becoming a habit for millions of people who use them daily for hours. Influencers mold these people's opinion about a product or service by either recommending or rejecting it.
Say you are a gaming company, and you would like to find influencers to promote your gaming accessory or your game, the best option would be YouTube.
There are some pretty famous influencers like PewDiePie who would charge you pretty high for recommending your product but if you are just starting then there are several other influencers who are ready to work with you in your budget.
A simple search on YouTube will bring you several gaming channels.
As you can see there are the ones with millions of subscribers and then there are some with 200k subscribers as well.
You can even go for channels with 50K subscribers. You can go to their "About Page" and see their contact info or message them directly as well.
They are more than ready to work as an affiliate. They'll even guide you on the best way to promote your product.
5. Niche Blogs.
People often start a blog if they are passionate about something. For instance, if a person's hobby is woodworking, a blog is a nice idea to keep yourself motivated as well as find like-minded people who are searching for anything related to woodworking on the internet.
Most often, if a person is good at something and provides helpful content on his/her blog to help other people with the same interest, the blog eventually becomes quite popular among those like-minded people. Using these already established blogs is a good way to start your affiliate marketing.
There are paid products that can help you connect with potential affiliates whose blog or site matches your needs (like this one) or you can do it yourself.
You can also find niche blogs in your target market and directly offer them your affiliate program. For instance, if you are selling "pet toys" then a simple search of "dog care guide blog" in Google will bring you lots of results.
These are pet-focused blogs and people reading them are potential buyers of pet products.
You can contact these blogs or websites by going to their About Us or Contact page and send them an email. But make sure to offer something worthy enough to catch their attention.
They probably get these types of emails every day and even working with some affiliates already. So you need to be a little bit creative in your approach when asking them to join you as an affiliate.
6. Coupon Sites.
Coupon sites are still unbelievably popular among customers. You can find several coupon sites, such as RetailMeNot, and contact them directly to discuss how to put your brand on their website.
With coupon sites, the reach of your brand grows dramatically, as it has the power to reach online shoppers that you would never do otherwise. Plus their visitors are customers so the conversion ratio is pretty high.
Keep in mind that these affiliates are coupon sites, so you must offer a discount for customers as well.
7. Online Communities.
You would be surprised to know how many people still use forums and groups. There are still Facebook groups with thousands of active members.
Say you are promoting a restaurant, then a restaurant or eating out related group or page on Facebook is your perfect chance to promote your product. You can contact the page or group owner and offer them your affiliate program.
Similarly, there are very active niche forums that attract both buyers and sellers. For instance, in the wellness and medical spheres, TalkHealthPartnership is the UK's leading health-related community.
You can contact them and offer them your affiliate network. There is a sub-forum with the name "Online Clinics" where doctors participate and answer questions online.
You can reach out to these doctors by using the private messaging feature of forums and work out some sort of deal.
You can also reach out to the most active members of the forum and offer them your affiliate program so they can earn while helping people at the same time.
8. Turn Customers into Affiliates.
You might have heard that your customers are your best salespeople. As true as this statement is, this is the most underrated method of getting affiliates for your product or service.
A happy customer is more inclined to suggest your product to family or friends and what's better than earning while doing this?
Now there is a pretty high chance that your customer is using Facebook and as per research, an average Facebook user has 155 friends.
This means your customer can put your product in front of 155 people who trust him/her.
With every order confirmation or delivery email you sent to your customer, you can tell them about your affiliate network. There is a pretty good chance that if your customer is happy with your product or service, he is more than willing to promote your product.
But before asking your customers to recommend your product to their friends or family, make sure that he/she is satisfied with the product or service. Make sure that you have an awesome & active customer service to sort out any customer issue.
Final Words.
So here you have some easy ways to find affiliates for your product. But remember that this is just the first part.
Making your offer appealing, offering high incentives and rewarding your affiliates based on their sales is the key to a successful affiliate marketing plan.
If carried out properly, affiliate programs can become a great advantage for your business. They can get you higher sales, increase your brand recognition and even strengthen existing customer's confidence in your business. Therefore many businesses now rely on affiliate marketing in one way or another.
Always remember that when an affiliate chooses to work with you, they are acting as your brand ambassadors. And like any other business, you need to make sure that your brand integrity remains the same.
You need to be careful about what affiliate network to join as well as what material they use to represent your brand. If done correctly, affiliate marketing can greatly improve your eCommerce business and help you in generating more sales.
References.
How to Advertise Your Affiliate Program (and Find Awesome Affiliates)
If you partner with influencers to promote your products, you probably spend a lot of time perfecting the products themselves.
However, that's not the only part of your business you need to consider. The importance of knowing how to advertise your affiliate program can't be overstated.
Fortunately, there are a few key rules of thumb you can follow. By understanding the most valuable places to promote your program, you can recruit top-quality influencers.
In this article, we'll cover why getting the word out about your program is so essential. Then we'll provide three key tips on how to advertise your affiliate program so you can find the right affiliates. Let's get started!
Why You Need to Advertise Your Affiliate Program
You probably already understand that people need to know about your program in order to join it. However, advertising is also more than awareness. It's also about selling your brand to affiliates and enticing them to join.
That's why advertising your affiliate program is so crucial. For example, it can demonstrate your communication skills. Offering a clear idea of what affiliates can expect to make from commissions with ads starts the relationship off on a transparent note.
Additionally, it can show that you take your program seriously. This is especially true if you're using a powerful affiliate plugin like Easy Affiliate: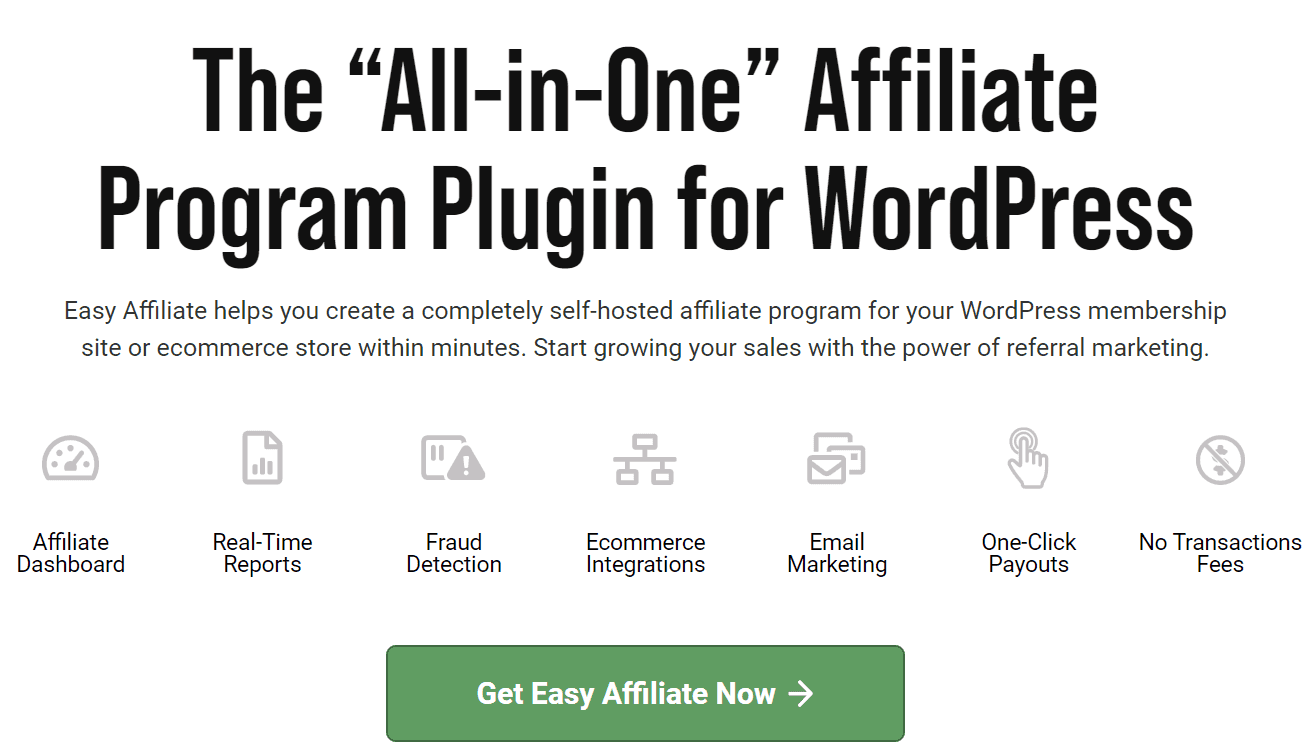 Easy Affiliate can help you keep everything in order, and make new affiliates feel confident. Furthermore, with the help of the plugin's features, it's easy to identify the best partners once they respond to your ads.
How to Advertise Your Affiliate Program (3 Key Tips)
There are all kinds of clever ways to promote your affiliate program. But the following three tried-and-true methods should help you get started on your quest to find ideal candidates for advertising your brand.
Some of the methods we'll mention can be done at a low cost or for free. However, other advertising techniques come with a price attached.
Therefore, we recommend that you include these items in your affiliate marketing program startup costs.
1. Start With Your Fans
If your organization has been around for a while, there's a good chance you already have fans. These could be people who enjoy buying your products. Or it could be people who consume your digital content for free.
Wherever the enthusiasm comes from, these loyalists can be a wise place to start, since they've already shown interest.
One way to take advantage of your existing fan base to find affiliates is by simply sending out an email to them. You can introduce your affiliate program, and provide a link with more information.
Additionally, you could consult sales records. Consider finding the customers who have purchased the most merchandise.
Moreover, your reviews section might also help you target advertising for your affiliate program. Try to search for a positive yet realistic review:

This form of advertising is a bit more targeted, as you'll have to reach out to each potential partner individually. However, try to resist the urge to use a template message. Personalizing your outreach emails can show that your brand respects its affiliates.
Also, not all of your fans will have their own websites. Nevertheless, they can still be powerful affiliates through social media. This kind of micro influencing can be a cheap and effective way of promoting your products.
We recommend this method (reaching out to fans) if you're just starting your program.
A small business likely has limited time and resources. This kind of hyper-targeted advertising can quickly attract dedicated partners with the necessary enthusiasm.
2. Reach Out to Top Performers in Your Niche
Once your organization is a bit more established, you might want to consider advertising your affiliate program to professionals. An efficient place to start the search is with the big names in your own niche.
For example, let's say you run a pet care business. You might want to familiarize yourself with the top animal bloggers. After that, you can reach out to them knowing that they're both productive and a positive brand match.
These top performers don't have to be individuals. Websites or organizations may be interested in partnering with your company.
Whether it's a person or an organization, however, we recommend that you avoid casual contact such as direct messages on social media. This can make your brand seem unprofessional. Instead, look for a business email, such as the one below: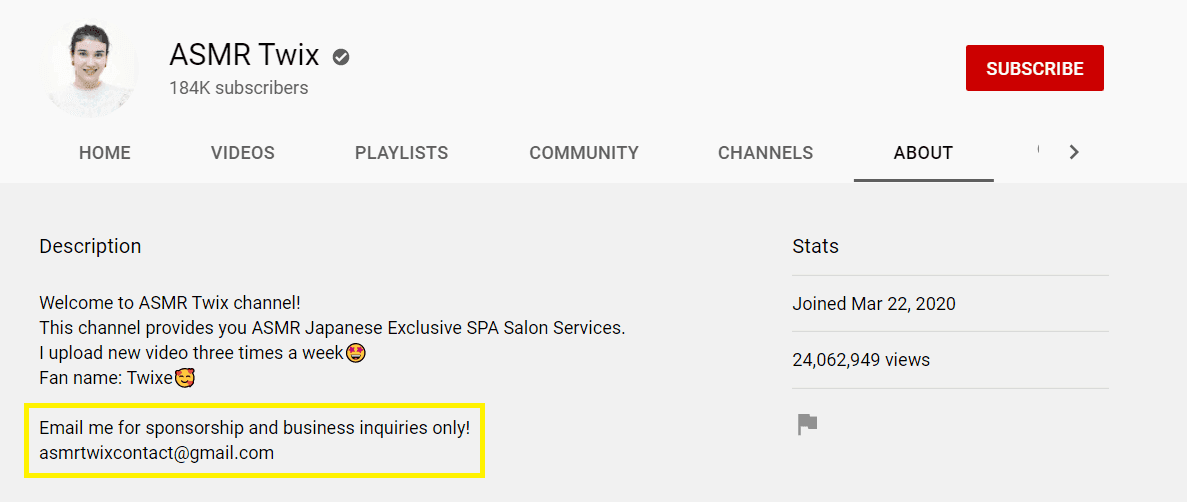 Advertising through a more official channel can show that you take the time to learn about each affiliate. Furthermore, it can also save you time: a potential partner with a prominent business email is more likely to be open to your offer.
Don't be afraid to aim high when you're advertising your affiliate program to pros! The fact that some ads won't work is a fact of marketing. However, even those who don't respond will now be aware of you, therefore boosting your brand visibility.
Finally, try to tailor these ads toward professionals. Top performers in your niche are probably familiar with the affiliate process. As such, we recommend that you highlight the unique aspects of your program, such as any attractive commission rates.
3. Promote Through a Third Party
As your program grows, you might not have time to target your affiliate ads. If this sounds like you, you might want to consider involving a third party to help get the word out about your program.
One option for this is an affiliate directory. These are often lists of affiliate programs. They also typically break down important elements such as the average earning rate and any tools the program equips its partners with.
If you're looking for an example, our sister site has an extensive affiliate guide: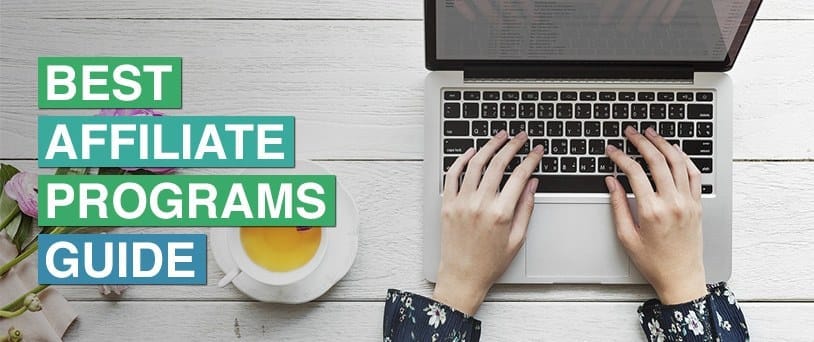 One of the biggest advantages to these directories is that they're a passive strategy. You simply upload your ads, and users seek them out to apply. However, not every directory is free or even open to submissions, so make sure you know what you're signing up for before you commit.
You might also want to spend some extra time on these sites to understand competing programs. If you're more familiar with what other organizations are offering, you should be able to advertise your affiliate program more accurately.
As an alternative, you can try creating your own membership directory if you already have a few affiliates. By posting their information on your site, you can welcome potential new affiliates to contact your existing members. This can be a simple way to personalize your marketing strategy.
Conclusion
Advertising your affiliate program doesn't have to be difficult. Fortunately, you can improve your marketing strategy by focusing on where you want to find your affiliates.
In this article, we covered three key tips to advertise your affiliate program:
Start with users who are already fans of your brand.
Consider reaching out to popular influencers within your niche.
Use a third-party service to spread the word about your program.
Where have you found the best affiliates for your program? Let us know in the comments section below!