I take it as if you already heard something about the 100K Shout Out. It is a new product on ClickBank and it has been launched in August 2019.
You may be aware also of the price of this system. If not just to let you know that it is over $2,000.
With that being said you are probably wondering whether it's worth it to invest in this system or if it is better to stay away from it.
In this 100k Shout Out Review (100K SO) we are going to cover who is behind this course, what the exact price is, what you will get, and so on.
It is a combination of a course and software that should teach you how to earn $100,000 per year.
Disclaimer
Please note, that I am not a member or an affiliate for 100k Shout Out.
This review is based on research and information available online in the public domain.
Any recommendations and conclusions are only opinions and may not apply to all persons or situations.
Name: The 100K Shout Out
Website: www.100kshoutouts.com
Price: Advertised Price $2497 (or 3 payments of $997) + Subscription for AmpiFire (the software)
Owners: Chris Munch and Jay Cruiz
Do I Recommend It? Not Really (I do offer an alternative at the end)
100k Shout Out Review – General Overview
The website has been created at the end of May 2019 and 3 months later this product has been launched.
The founder of 100K is Chris Munch. He has started his online business back in 2006. Since then he has sold over 200,000 digital and physical products and helped more than 10,000 entrepreneurs start and/or grow their own businesses.
100K Shout Out is a course teaching how to create an income of $100,000 a year based on a method that has been proven over the past 5 years. As a part of the course, is also software called AmpiFire included.
This is supposed to be able to create campaigns that will be shared on different channels such as Youtube, Vimeo, and SlideShare.

The "AmpiFire" is an engine (apparently first of a kind) and can be used to amplify any business by getting it more exposure.
Here is what you get; it is a 3 step system to generate thousands of dollars a week.
Step-by-Step system that generated more than $2,000 a week with a "done for you" campaign
The Formula for finding high ROI, the low competition offers to promote every time
How to get hundreds of visitors to your offers daily
100k Shout Out Pros

Money-back guarantee
Provides you with automation (no learning curve)
Content is posted on many channels simultaneously
100k Shout Out Cons
No website hosting
Price – it is a high-ticket program
You don't have control of the promotion (you rely on a done-for-you system); lack of independence – just my opinion
Who is it for?
According to the founders of the 100K SO this is for complete beginners in online business. It is said that this is a proven way how to generate an income so you can quit your 9-5.
Also, it is for those who already have some business experience. but don't have any results yet.
Last but not least, people with an already successful online business but looking for an additional income stream or they just want to get their business to the next level.
100K SO is not for people who are looking for a "get-rich-quick" scheme. That is fair enough.
If you are serious about this kind of business you should get into the mindset of helping others.
I also agree with this statement and guys from 100K SO highlight this statement at the beginning of their webinar.
This is definitely not for a person who thinks that it is enough to spend 10 minutes daily on a computer and that gives him a big fat check.
It is important to realize that everyone who wants to succeed must be willing to work.
Having said that here is who this can work for:
Complete Beginners
Affiliate Marketers
Amazon or eCommerce sellers
Local business owners (both offline and online)
The 100K Shout Out Tools & Training
With tools 100K you can make the entire process of creating and promoting the content much easier.
They say it takes too much effort and time to do the marketing the "old way".
Meaning,
creating content
and sharing the content manually on Facebook, Instagram, YouTube, and so on
SEO, blogging
It may be confusing and overwhelming to do everything on your own.
That is where this 100K SO comes in.
It is supposed to automate the process of sharing the content on different media, and channels so you can get tons of traffic very quickly.
100k Shout Out Review
Step #1
Your content needs to be seen by people. Meaning it must be on multiple platforms (ranking on search engines, sharing on Facebook, creating YouTube videos).
You need to leverage existing authority sites, and brands, and it must not take years.
It is said with this system your content can be "heard and seen" within 36 hours using an amplifying technique.
One single campaign and your content will be distributed across hundreds of high-traffic distribution channels, like YouTube, audio podcasts, blogs (Facebook, Twitter) including news sites, and google news.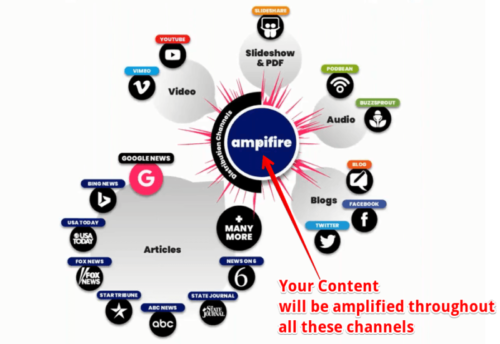 This all is being done automatically and within a few minutes.
Step #2
You can choose from already prepared templates and create a mini-website that looks like a blog site. You can have 2,3 or 5 websites. It is up to you.
These websites contain information about the products you are promoting. Whether it is a digital product or a physical product.
Apparently, it is very easy to set up, and the design of these sites is chosen by Chris and Jay since they know what drives the sale.
Step #3
When a visitor clicks the link on the mini-website(s), he or she is sent to the offer. Eventually, the visitor buys the product, and you are paid a commission.
That is how affiliate marketing works. Only this $2,500 system automates the promotion of your website. So it does the marketing for you.
I prefer to learn new things on my own, meaning I like to test out the market on my own since marketing is not a science. It is an art. I think to be efficient in the long term one has to figure out what works for him the best.
Besides, I don't like to rely on an engine that does things for me. If something goes wrong or if the owners decided to ban you, you are on your own. So I would be careful with all this automation.
But it is just my opinion.
Let me know what you think about it, and please share your thoughts in the comment section below.
To sum it up;
This software called AmpiFire will help you with:
Your offers will be advertised automatically over more than 400 traffic distribution channels in less than 10 minutes
You will have hundreds of quality digital assets that get you traffic.
You will be able to remodel your content in different mediums so you can reach new audiences.
The prospect who decides to buy this system will be provided with the following tools:
Proven Mini-Site Template
Support
The 90-Day Challenge (discover the #1 fastest way to get to the $10k)
Also, there are Bonuses available:
The $100K Case Studies – exact steps their most successful students. Learn from their mistakes
One-To-One Coaching Call – you will be advised on a plan tailored to your specific situation. Ask all your questions about how to get the business off the ground.
AmpiFire Live: VIP Admission – all-access admission to ampifire live a 2-day in-person event in Barcelona that already took place at the beginning of October. So that was available at the time of the launch.
One thing that I don't understand, is that to each of these single offers they add a price tag of some ridiculous amount. So when you add them up you have a "total value: 35,844 "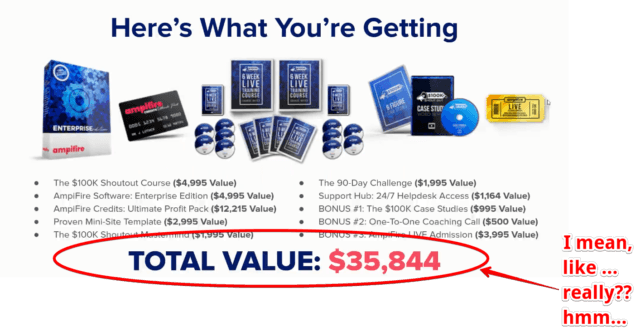 I am not sure how they come up with that figure…
But, here is how they justify it:
Apparently, your content will be put on google news and USA Today, and other authority media.
I admit that getting to those authority sites requires time and effort and sometimes extra money.
Support
It is called the $100K Shoutout Mastermind where you can ask questions and get help 24/7. Besides that, they provide members with a Live Q&A call every month.
There should be more than 10,000 members and 14 certified professionals where a newbie can seek out help.
It is always good to have a supportive community.
I am just wondering where they get more than 10,000 members (already in August) if the system was launched in August.
I could not find a Facebook Group for the 100K Shout Out. Only the JV part and that is for people who promote this product.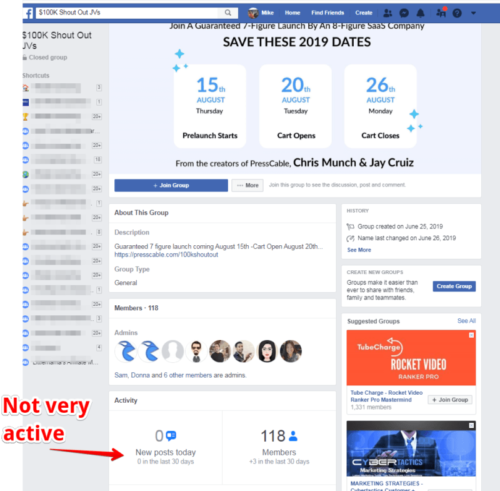 They do have though, email-based support and coaching 24/7/365. Prospects should get a rapid response from the in-house team who are fully trained in the 100K system.
The 100K Shout Out Price Structure
The price as already announced is $2,497.
It can be paid either by 1 payment or a 3x payment of $997.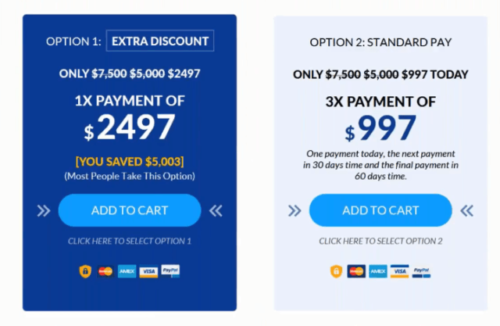 On top of that, you have to pay $295 per month for the engine we mentioned above – the AmpiFire.
I also must point out that you have a 60-day money-back guarantee. It is a product from ClickBank, so in my experience, the ClickBank support regarding the refund works perfectly.
My Final Opinion of The 100k Shout Out
This seems like a revolutionary system, but I have my doubts about the automation process.
I think if you have a budget you can try this out.
By the 2nd month, you should see some results already. If not, just ask for a refund.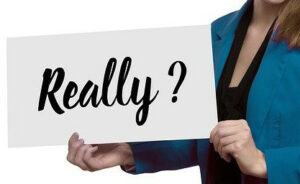 In my opinion, people who buy this system know that they can't fail. I mean for that price they pay, they do everything they can to make this work.
What I miss in this whole system is hosting.
This company does not provide you with hosting. Therefore you have to check Hostgator or Namecheap or other services.
If you looking for ways how to learn about SEO and how to build your website and you want to become an expert, I am afraid this is not the right system for you.
The reason I mention this is once you learn how to create a website and rank well, you are on your way to succeeding in any niche, besides you can open an agency and provide paid service to local businesses.
But if everything is done for you, what is the benefit? Apart from the potential income that might be generated.
Of course, it can run for a year, maybe two but what will happen if for some reason your 100K Shout out will be closed. You are just a visitor or client of 100K Shout Out.
Just like you use Facebook. Your FB account can be just terminated for no reason.
I don't want to criticize this system, but I just would like you to see the bigger picture.
The 100K Shout Out at a Glance…
Name: The 100K Shout Out
Website: www.100kshoutouts.com
Price: Advertised Price $2497 (or 3 payments of $997) + Subscription for AmpiFire (the software)
Owners: Chris Munch and jay Cruiz
Overall Rank:

VERDICT
Do I recommend this system?
I think it is worth a try.
But it is a still new product and nobody can guarantee how it works in reality. So keep this in mind.
On the other hand, you have a 60-day money-back guarantee.
By that time you should already see some results. I would not be discouraged if I'd made only a few hundred in the first month. This process even if it is automated needs time.
If you are a newbie, remember that the 1st dollar made online is always the hardest one.
On the other hand, if you looking for a cheaper platform where you can learn and create your customized website you may want to look at this alternative.